CC4 almost completely energy neutral thanks to own photovoltaic system
A livable world is the focus of CC4. That's why we are on the road to ensuring that IT equipment is used for longer in order to conserve resources. So it was only logical to generate the company's energy needs sustainably. Therefore, in the middle of 2021, a powerful photovoltaic system was installed on the roof of the company headquarters. After one year of operation, we can draw a successful balance.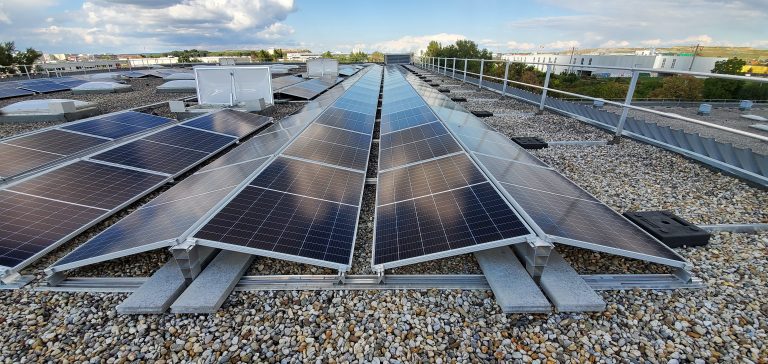 CONSERVING RESOURCES
With its services, CC4 ensures that IT equipment is used for longer in order to conserve resources. In this way, together with our customers, we contribute to the continuation of a world worth living in. As part of our vision, we have also set ourselves the goal of making all company processes sustainable, energy-neutral, self-sufficient and environmentally friendly. One major goal was to generate the company's not inconsiderable electricity requirements ourselves, in the long term in a climate-neutral manner. Therefore, in mid-2021, the first expansion stage of our high-performance photovoltaic system was put into operation on the roof of our company headquarters in Vienna in the 22th district. After just over a year of operation, we can speak of a complete success.
NEARLY COMPLETELY ENERGY NEUTRAL
The plant produces 94% of CC4's electricity needs. This means that CC4 operates almost completely energy neutral. 64% of its own electricity production was fed directly into its own grid. 36% of the electricity production was fed into the public grid. 58.8 tons of CO2 were saved with the plant in 12 months. This corresponds to 1,755 planted trees.
The company's own fleet of e-cars, including electric transporters, is operated at four charging stations.
CC4 WILL BE ELECTRICALLY AUTHORIZED
This great first interim result gives us the courage to take the next step. By expanding and extending the plant, we want to become largely self-sufficient in electricity and thus also meet the increasing energy demand due to the growth of our company. The expansion of capacity is also reflected in the future 10 charging columns for the rapidly growing electric car fleet. Especially in these turbulent economic times, it is important for us to ensure the operational reliability of the company for our customers. By the end of this year, planning and preliminary work for the expansion of the facility will be completed. In the first quarter of 2023, the second expansion stage of the plant will go online.